Tonight's VB game v. Faith will be streamed on LiveTicket.tv and YouTube. Go to LiveTicket.tv or search Herreid-Selby Area Wolverines v. Faith Longhorns (VB) on Youtube and enjoy. C-Team Coverage will start around 5:15 PM. Go Wolverines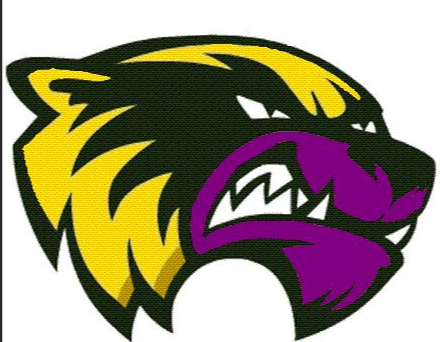 Tonight's VB game v. Timber Lake will be streamed on LiveTicket.tv and YouTube. Go to LiveTicket.tv or search HSA Wolverines v. Timber Lake (VB) on Youtube and enjoy. JV Coverage will start around 6:15 PM. Go Wolverines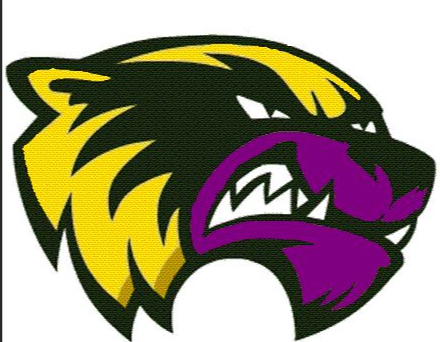 SCHEDULE CHANGE - The volleyball game between HSA and Faith has been rescheduled from October 26th (@ Herreid) and will be played Tuesday, Sept. 14 (in Selby). C-Game at 5:15 PM CT, JV at 6:30 PM CT, and Varsity to follow.


The Wolverines JH/JV Football Teams will participate in a JH/JV Jamboree at Gettysburg, Sept. 11 starting at 9:30. See photo for schedule.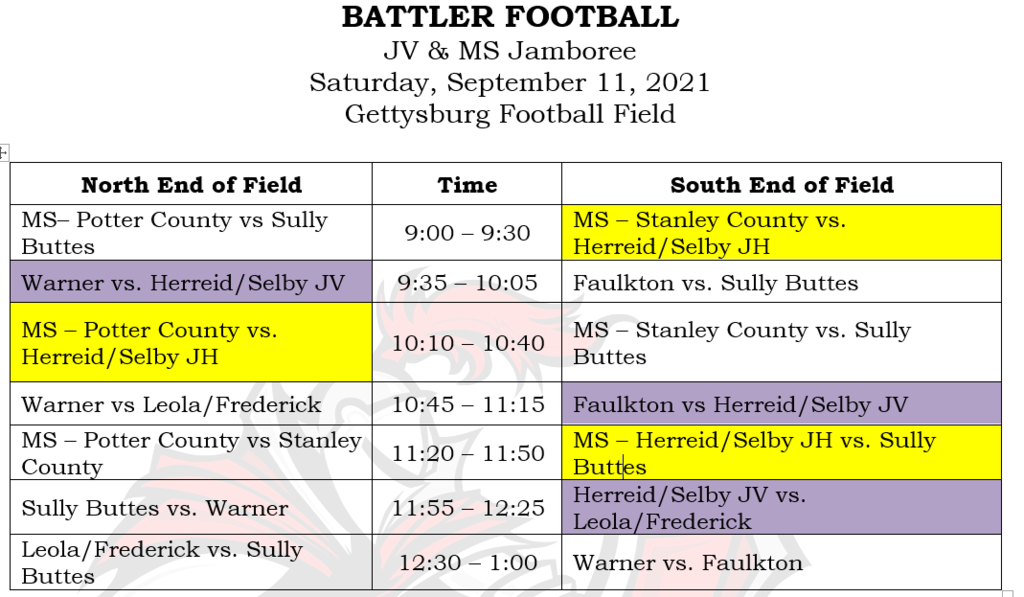 Mobridge-Pollock VB Tournament Information The Wolverines will face Timber Lake on Saturday, September 11th. The tournament is set to start at 10:00 AM CST. Teams competing in the tournament include Mobridge-Pollock, Ipswich, Timber Lake, Stanley County, Cheyenne Eagle Butte, Herreid-Selby Area, North Central, and McIntosh.

Due to a lack of officials, the SDHSAA notified the Selby Area School that the football game at Lemmon (Friday, August 27th) has been moved to 3:00 PM CT (2:00 PM MT). School will be dismissed on Friday, August 27th at 12:30 PM.

Thank you Mrs. Hanson for stopping by the 3rd grade to show us your butterflies.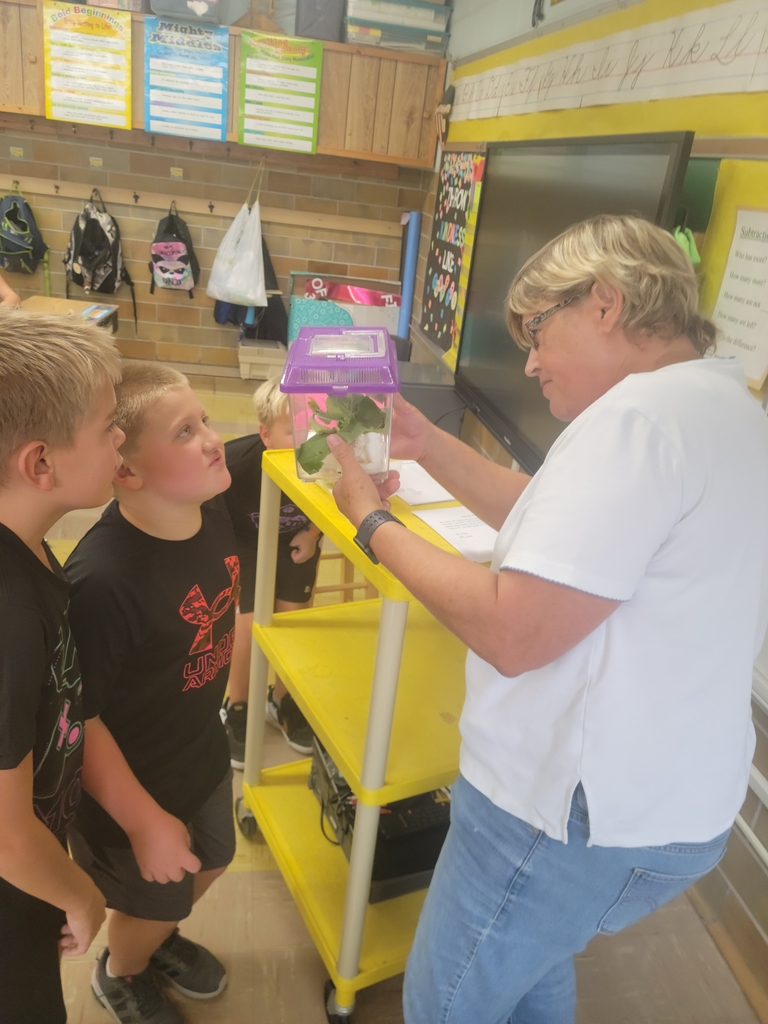 Varsity FB Pictures will be Thursday, August 12th at 8:00 AM in Herreid. Players have been notified and forms have been sent home. Additional forms are available on the school website (athletics). Volleyball, Cross Country and Cheerleading pictures will be on Thursday, August 17th at 2:30 PM. Coaches will send home forms or parents/participants can download one from the school website (athletics). Contact the school if you have any additional questions.


The Selby Area School will be hosting a Back to School Meeting on Monday, July 12th at 6:00 PM. The public is invited to attend. Items to be discussed will be the school district's continued efforts related to COVID-19. The ESSER II and ESSER III Grants will also be discussed. Feel free to contact Mr. Schroeder for further information.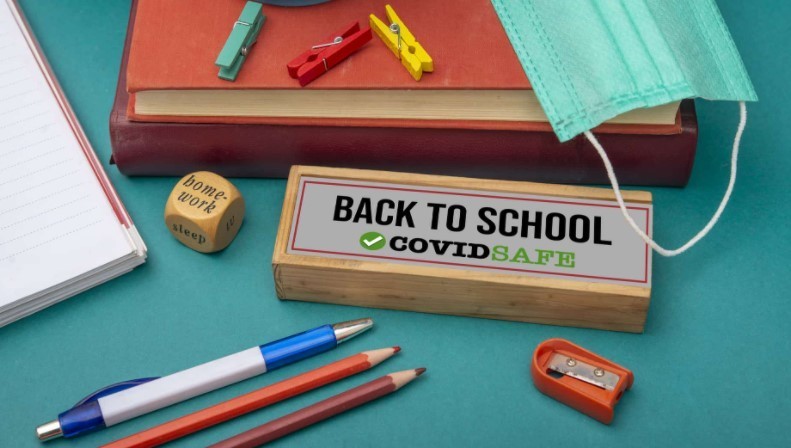 Summer maintenance is progressing smoothly at the Selby Area School District. The hallways in the elementary will be closed this Thursday (7/8/21) and Friday (7/9/21) as they are being waxed. The hallways in the high school will be closed next Wednesday (7/14/21), Thursday (7/15/21) and Friday (7/16/21) for waxing as well.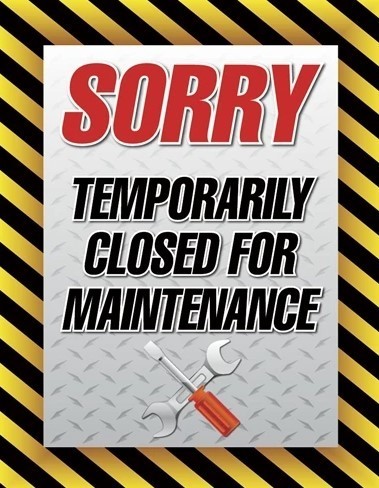 The school gym (North) and weight room will be closed from July 1 through July 7th per SDHSAA - Summer Moratorium Rules. Both facilities will reopen on Tuesday, July 8th.